About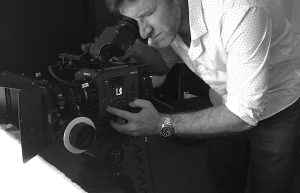 R
éalisateur de films publicitaires pour Guerlain, Dior, Piaget Lancôme, Sanoflore, Vivel, Sécurité Routière, Renault…
Éric Rebut s'est spécialisé en beauté dans la pub et en comédie dans la fiction.
Formé aux métiers du son et de l'image au CNAM et à l'INA, en passant par les Arts Plastiques à la Sorbonne, il met un pied dans la pub par le biais du story board chez Bandits, puis réalise son premier court métrage « Supercroix » Il a réalisé depuis des pubs et des films corporate pour notamment Hémisphère droit, Publicis, Lowe Strateus, Zorba Group, Omédia, Canal+ ou Future East Films à Mumbaï.
Il écrit et réalise également des programmes courts et des court-métrages à l'humour plutôt noires et absurdes.
Il souhaite maintenant se tourner vers le long-métrage et le documentaire avec des projets en cours de développement.
E
ric Rebut has directed commercials for Guerlain, Dior, Piaget Lancôme, Sanoflore, Vivel, the French Road Safety campaign, Renault…
After training visual arts at the Sorbonne, CNAM (Conservatoire National des Arts et Métiers) and INA (Institut National de l'Audiovisuel) he took his first steps in commercials producing story boards for Bandits Productions and directed his first short film « Supercroix ».
He has since directed corporate films for Hémisphère Droit, Publicis, Lowe Strateus, the Zorba Group, Omedia, Canal + and Future East Films in Mumbaï, and several short films that feature his trademark dark and absurd humour.
He is now looking to direct feature length films and documentaries with two projects in the pipeline.